Wilam: A Birrarung Story
by Aunty Joy Murphy Aunty Joy; Andrew Kelly Andrew; Lisa Kennedy Lisa
$24.99
AUD
Category: Children's Indigenous
Wilam: A Birrarung Story is one day on a vital, flourishing river. As ngua rises, Bunjil soars over mountain ash, flying higher and higher as the wind warms. Below, Birrarung begins its long winding path down to palem warreen. Wilam – home. Yarra Riverkeeper Andrew Kelly joins award-winning picture book duo Aunty Joy Murphy and Lisa Kennedy to tell the Indigenous and geographical story of Melbourne's beautiful Yarra River, from its source to its mouth; from its pre-history to the present day.   ...Show more
$24.99
AUD
Category: Children's Indigenous
Age range 6 to 9Billie wants the blue bike and she asks her Mum to buy it for her — but her Mum has no money to spend on a bike. She asks Uncle Jack and he won't give her the money either, but he will help her save up to buy the bike herself. She can work for him for $10 per week for 10 weeks to save th e $100 for the bike. But Billie is impatient, and she tries washing cars and even enters her dog Spike in a dog contest — neither of which works out. She eventually she goes back to Uncle Jack and saves the money in 10 weeks — and she is able to purchase the bike!Billie and the Blue Bike is a fun and engaging way to introduce young children to financial literacy knowledge, and is written for Indigenous children in particular. This brightly illustrated and instructive picture book, written and illustrated by the award-winning Ambelin Kwaymullina, has been designed to include financial literacy learning relevant to students at a Year 2 level. Billie and the Blue Bike references the National Consumer Financial Literacy Framework, which sets out three dimensions of learning that underpin consumer and financial education: knowledge and understanding; competence; and responsibility and enterprise. Teachers and parents can use the book as a resource to help children understand core financial literacy matters through storytelling.   ...Show more
$24.99
AUD
Category: Children's Indigenous
Briggs is a much-loved hip-hop artist, screenwriter and producer, working on shows such as Matt Groening's Disenchantment and The Weekly with Charlie Pickering. Briggs won 'Film Clip of the Year' and was shortlisted for 'Artist of the Year' at the 2019 National Indigenous Music Awards. ·Kate Moon is a celebrated artist, mainly in animation Rachael Sarra is an emerging Indigenous artist from Brisbane Fresh, contemporary illustration and design – signifying a new chapter in children's Indigenous publishing.   ...Show more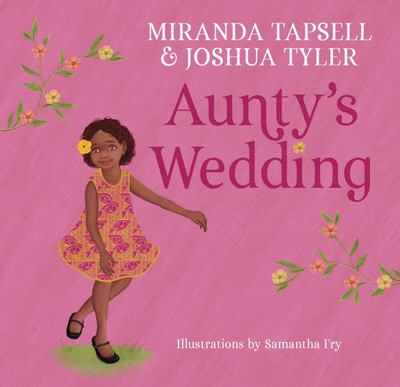 Aunty's Wedding
by Miranda Tapsell; Joshua Tyler
$24.99
AUD
Category: Children's Indigenous
A Tiwi-Island girl prepares for Aunty's wedding with help from her maningawu in this vibrant picture book by the popular actor and writers of Top End Wedding and the highly acclaimed illustrator of Alfred's War.   Everyone on the island is getting ready for Aunty's wedding.Maningawu puts on her best hat and I can wear a wurrijinga in my hair. Lucky!We all dress up, but I still don't understand. Why do people have a wedding?A warm family story that celebrates love and culture from actor, activist, writer and Australian sweetheart, Miranda Tapsell, and Joshua Tyler, co-writer of Top End Wedding, lushly illustrated by Samantha Fry. ...Show more
$24.99
AUD
Category: Children's Indigenous
Author Thomas Mayor's journey around Australia with the Uluru Statement has been a moving experience. In particular, when he visited schools he was inspired by the children he spoke with. Unlike past generations, Australian children today are learning Indigenous languages, seasons and the truth of this country's history. Some children he met even knew more about the Australian Constitution than most adults do! The expression 'through a child's eyes' is put into practice in the pages of this picture book for 5- to 10-year-olds. Thomas hopes that by talking to the guardians of future Australian generations, perhaps we can all accept what First Nations have proposed in the words of the Uluru Statement:'When we have power over our destiny our children will flourish. They will walk in two worlds and their culture will be a gift to their country.' The final pages offer children ideas on how they can accept the gift offered by the Uluru Statement, such as finding out who the Traditional Owners are of their home city or town, and trying some different local bushfoods With illustrations created by award-winning artist Blak Douglas, this is a timely children's book that complements Thomas's bestselling adult book Finding the Heart of the Nation.   ...Show more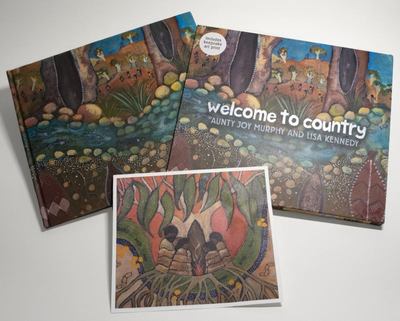 $34.99
AUD
Category: Children's Indigenous
An Aboriginal ceremony of Welcome to Country is depicted for the first time in a stunning board book from two Indigenous Australians. Welcome to the lands of the Wurundjeri people. The people are part of the land, and the land is a part of them. Aboriginal communities across Australia have boundaries th at are defined by mountain ranges and waterways. Traditionally, to cross these boundaries, permission is required. Each community has its own way of greeting, but the practice shares a common name: a Welcome to Country. Aunty Joy Murphy Wandin, the senior Aboriginal elder of the Wurundjeri people, channels her passion for storytelling into a remarkable and utterly unique picture book that invites readers to discover some of the history and traditions of her people. Indigenous artist Lisa Kennedy gives the Wurundjeri Welcome to Country form in beautiful paintings rich with blues and browns, as full of wonder and history as the tradition they depict.   ...Show more
$29.99
AUD
Category: Children's Indigenous
Gorges that plummet into serpentine shadows ...Cloaks of white that drape the rocky crags of snowy mountains ... In this magnificent celebration of country, Bronwyn Bancroft uses colours, shapes, patterns and words to explore the awe-inspiring beauty of the Australian continent and to express the depth of her feelings for it. The Art in Country: A Treasury for Children is an essential addition to any young Australian's library, and a perfect introduction to the many wonders that this country has to offer. This is a treasury to be cherished by all who love this land. ...Show more
$24.99
AUD
Category: Children's Indigenous
A wonderful companion to Gregg Dreise's highly acclaimed My Culture and Me, this joyful picture book celebrates Australia's Indigenous heritage and the diversity we enjoy today. Hello and welcome to our corrobboree. Hello and welcome to our gathering. Father Sky, Mother Earth together here with me. Diff erent colours, different people, together in harmony. ...Show more
$24.99
AUD
Category: Children's Indigenous
All that I'm wishing, Is that you take a moment to listen... A slam poetry persuasive and powerful vision of unity from award-winning First Nations creator Gregg Dreise. Passionate, yet peaceful, Common Wealth is a compelling plea for a future of truth, togetherness and respect for our nation's deep his tory. Contains some confronting images. ...Show more
$24.99
AUD
Category: Children's Indigenous | Series: Kimberly Art Centre Ser.
Age range 0 to 9 I am Shirley Purdie This is my story Ngayin-ga Birrmarriyan-nga Berrembi jarragbe ngaginybe.  My mother shows me how to get bushtucker and she shows me how to paint. Now I'm a famous artist.  My paintings are all over the world hanging in important places. Happy times. Told in English and Gija, this is the story of Shirley Purdie, famous Gija artist, as told through her paintings, as part of the Ngaalim-Ngalimboorro Ngagenybe exhibition created for the 2018 National Portrait Gallery exhibition So Fine: Contemporary women artists make Australian history. The exhibition will be rehung, in Gallery 1, to coincide with the launch of My Story, along with a series of cultural engagement activities based on My Story. This is the first book in the Kimberley Art Centre Series. The series focuses on developing the skills of Kimberley Aboriginal artists in children's picture book storytelling and illustration.  ...Show more
Respect
by Aunty Fay Muir; Sue Lawson; Lisa Kennedy (Illustrator)
$24.99
AUD
Category: Children's Indigenous | Series: Our Place Ser.
Our Way is old. Older than the red earth. Older than flickering stars. Our way is respect. A tender, thoughtful story reminding us to respect others and respect ourselves. Part of the Our Place series which welcomes children to culture.  'Dream team Aunty Fay Muir and Sue Lawson, who previously brought us the excellent Nganga: Aboriginal and Torres Strait Islander words and phrases, have collaborated with artist Lisa Kennedy to deliver this absolutely exquisite picture book.  In Respect, the first book in Magabala's Our Place series — the aim of which is to welcome children to Aboriginal culture — Muir and Lawson's sparse text is offset by Kennedy's luminous images, which come alive on the page.' — Hannah Gardiner, Books+Publishing ...Show more
Sorry Day
by Coral Vass; Dub Leffler (Illustrator)
$17.99
AUD
Category: Children's Indigenous
There was a hum of excitement. Flags flickered in the breeze as Maggie's heart danced with delight. 'This is a very special day!' her mother said. Maggie holds tight to her mother as they await the long anticipated apology to show a willingness to reconcile the past for future generations. In the excite ment of the crowd Maggie loses touch of her mother's hand as is lost. In a time 'long ago and not so long ago' children were taken from their parents, their 'sorrow echoing across the land'. As the Prime Minister's speech unfolds Maggie is reunited with her mother. But the faces and memories of the stolen generation are all around them. Two stories entwine in this captivating retelling of the momentous day when the then Prime Minister of Australia, Kevin Rudd, acknowledged the sorrows of past and said 'Sorry' to the generation of children who were taken from their homes. The book includes a foreword from Lee Joachim; Chair of Rumbalara Aboriginal Cooperative and Director of Research and Development for Yorta Yorta Nation Aboriginal Corporation. ...Show more