$24.99
AUD
Category: Jigsaws
Piece together the world of Jane Austen in this exciting new 1000 piece jigsaw, inspired by the life and works of the prolific author. Featuring a wide cast of Jane Austen's contemporaries and characters, take a tour of Austen's world from the rolling hills of Derbyshire, via Hampshire and Lyme Regis, t o the golden stone of the Bath skyline as your build this puzzle. All of your favorites are hiding in this busy and engaging scene, waiting to be found by you! From Mr Darcy walking the grounds of Pemberley, to Anne Eliot enjoying a seaside escape, discover hidden gems as you make this puzzle and enjoy the final scene. The perfect challenge for Janeites, or anyone who loves a good jigsaw, this puzzle full of whispered intrigues, harmonious weddings and proposals is sure to delight. The World of Jane Austen is the second in Laurence King's new series of jigsaw puzzles, following The World of Shakespeare, and includes a pull-out poster full of fun Austen facts   ...Show more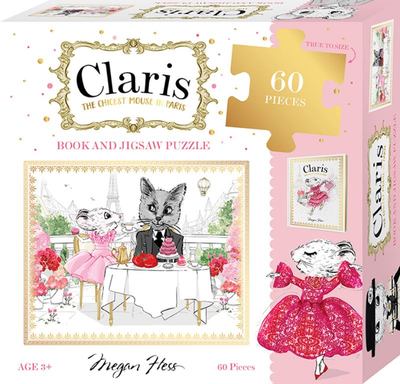 $26.99
AUD
Category: Jigsaws | Series: Claris
This gorgeously designed gift set includes a hardback copy of Claris: The Chicest Mouse in Paris and your very own 60-piece Claris jigsaw puzzle! Claris: The Chicest Mouse in Paris follows an adorable mouse who dreams of moving to Paris to follow her fashion dreams. One day, she bravely takes the leap - only to find a mean little girl with a horrible-looking cat standing in the way of her perfect Parisian apartment! Can Claris use all her wit, warmth and - of course - style to make her dreams come true? A delightful rhyming tale about courage, compassion and a stylish little mouse, from acclaimed fashion illustrator Megan Hess. Claris: The Chicest Mouse in Paris is the first picture book in a dazzling series for lovers of Eloise and Olivia. Destined to delight fashion-obsessed readers of all ages! ...Show more
$24.99
AUD
Category: Jigsaws
Don your deerstalker and immerse yourself in Holmes' London, complete with bodies, boat chases, and, of course, 221B Baker Street. Once you've assembled the puzzle, the game is afoot! Hunt for Conan-Doyle's most memorable characters, from the hound at Baskerville Hall to Moriarty, Dr. Watson, Mycroft, a nd more, as well as real historical figures from the era. ...Show more
$19.99
AUD
Category: Jigsaws | Series: KiddieJigs Ser.
This Book n' Puzzle pack features a delightful board book edition of the ever-popular nursery rhyme "The Wheels on the Bus" with beautiful illustrations by Wendy Straw, packaged together with a gorgeous 16 big-piece jigsaw. The overall puzzle size is 11 x 10 inches. The words and music of this rhyme sin g alongside children as they take their first steps towards literacy, while the puzzle is perfect for developing fine motor skills and memory.   Book and puzzle are packed inside a box, with the book's padded cover poking through a die-cut window.. The jigsaw itself is packed inside a clear bag inside the box. ...Show more
$24.99
AUD
Category: Jigsaws
Take flight around Australia with this aviary of feathered friends - plucked from skies, trees, grasslands, and our vast and varied landscapes - and presented in this 252-piece, illustrated puzzle. With the Birds of Australia Puzzle, you can discover the emu of our red-earth deserts and the cassowary o f our lush tropical rainforests. There's the pesky seagull of our beaches, the warbling magpie of our suburban front yards and the shy albatross soaring through our deep ocean skies. Revel in the beauty of our natural wonders, and keep busy for hours, with this inspiring puzzle. Puzzle measurements are 570mm x 810mm. ...Show more
$34.99
AUD
Category: Jigsaws | Series: 1000-Piece Jigsaw Puzzles Ser.
Part of an exciting series of sturdy, square-box 1000-piece jigsaw puzzles from Flame Tree, featuring powerful and popular works of art. This new jigsaw will satisfy your need for a challenge, with the charming Annie Soudain: Foxgloves and Finches. This 1000 piece jigsaw is intended for adults and child ren over 13 years. Not suitable for children under 3 years due to small parts. Finished Jigsaw size 735 x 510mm/29 x 20 ins. Born in Kent, Annie Soudainspent her early childhood years in Truro, Cornwall, where her interest in plants and nature began. Now settled by the sea in Sussex, much of her work continues to be inspired by the beautiful landscapes surrounding her. This colourful linoprint was created using the reduction method, which involves progressively cutting, inking up, and printing from the same block. The picturesque scene was taken from the view across the field overlooking Rye Bay in Hastings Country Park. ...Show more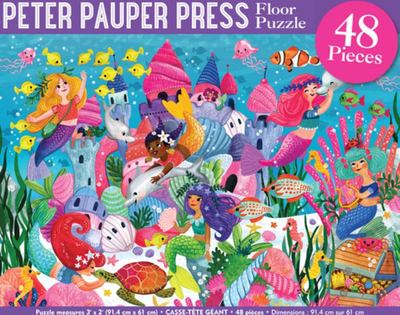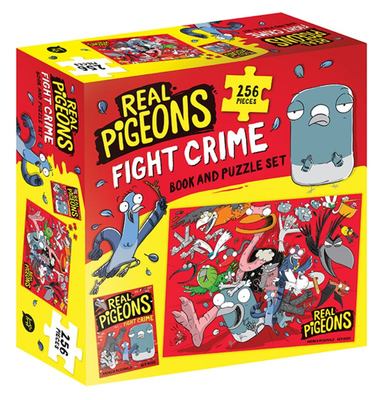 $24.99
AUD
Category: Jigsaws | Series: Real Pigeons Ser.
Join in the zany world of the Real Pigeons with an action-packed 256-piece puzzle and book set! This set includes the first book in the series, Real Pigeons Fight Crime, where Rock and his mystery-solving friends tackle their first caseload: Why have all the breadcrumbs disappeared? Who on earth is kidn apping bats? And can the pigeons avert a dinner disaster??Ever wonder why pigeons always act so weird? It's because they're out there chasing the bad guys and saving your butts! Did you know your city is protected by a secret squad of crime-fighting pigeons? It's true! With master of disguise Rock Pigeon, bendy Tumbler, strong Frillback and super-finder Homey, the REAL PIGEONS will solve any mystery and fight any bad guy to keep the city safe! Perfect for fans of Aaron Blabey's Bad Guys and Dav Pilkey's Dog Man books, the Real Pigeons series is a hilariously silly and highly visual introduction to the joys of reading and crime-fighting for readers 6+.   ...Show more