$16.99
AUD
Category: Middle Grade | Series: The Violet Veil Mysteries
A breakout new detective series, from the author of the spine-tingling Scarlet and Ivy series, beautifully illustrated by Hannah Peck. Violet Veil wants nothing more than to prove her worth and become her father's apprentice at Veil & Sons Undertakers. And one rain-soaked night she gets her chance when she meets a boy, Oliver, who is wandering around the graveyard. Only, the last time Violet saw Oliver, he was indoors and very much dead, waiting to be buried. Victoria has just found her first case, and it doesn't get bigger than this: can she, with the help of her dog, Bones, help Oliver solve his own 'murder'? ...Show more
$16.99
AUD
Category: Middle Grade
A girl who transforms into a dog, a magic puppet show with the power to change lives, and a story about the mysteries of the imagination from Ursula Dubosarsky, the Australian Children's Laureate. Lara had always wished she was a dog, and one day, just for a short time, she actually became one. This is how it happened.In a mulberry brick house on the harbour that Lara explores while her mother cleans, Lara meets Pierre, a boy about her age with a beautiful antique puppet theatre. With his puppets, he tells her a story about a boy whose family has been eaten by wolves. The boy is lost. He needs to find his grandmother. Lara takes the part of a dog, but suddenly she can no longer tell where she ends and Dog begins. Or is she Wolf? Caught up in Pierre's story, Lara has to fight to protect her identity - and her new friend. Can she help Pierre find his way home?Pierre's Not There is a lyrical, captivating and imaginative story that can be read on many levels.   ...Show more
$15.99
AUD
Category: Middle Grade | Series: Rise of the Mythix
Enter the Griffin!The Unicorn, Minotaur and Griffin are united at last. Surely together they will be unstoppable! But the evil Collector is not going to give up without an epic fight, and not all the beasts of legend are on the side of good...Will our heroes finally fulfill their destiny? 
$16.99
AUD
Category: Middle Grade
An exquisite, heartbreakingly beautiful gem of a novel for anyone who loved Wonder, Lenny's Book of Everything, A Monster Calls or When You Reach Me.'Heart-twisting and hopeful, bursting with big feelings and gentle magic. This is a special book from a powerful, compassionate new voice in children's lit erature, destined to be read and loved for generations and held close in many hearts (including mine).' - Jessica Townsend, New York Times bestselling author of the Nevermoor seriesMeixing Lim and her family have arrived at the New House in the New Land, inherited from First Uncle who died tragically and unexpectedly while picking oranges in the backyard. Everything is vast and unknown to Meixing and not in a good way, including the house she has dubbed Big Scary. She is embarrassed by the second-hand shoes given to her by the kind neighbours, has trouble understanding the language at school, and with fitting in and making new friends. Her solace is a glasshouse in the garden that inexplicably holds the sun and the moon and all the secrets of her memory and imagination. Her fragile universe is rocked when tragedy strikes and Ma Ma refuses to face the world outside. Meixing finds herself trapped within the shrinking walls of Big Scary. Her parents said this would be a better life for them all, but it feels like the worst and most heart-breaking experience of Meixing's entire existence. Surviving will take all the resilience and inner belief of this brave girl to turn their world around. ...Show more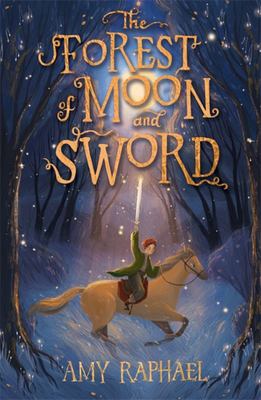 $15.99
AUD
Category: Middle Grade
When Art's mother is accused of witchcraft, she is determined to get her back - at any cost. A lyrical adventure with folklore at its heart, for fans of THE HOUSE WITH CHICKEN LEGS. Twelve-year-old Art lives in a small village in Scotland. Her mother has always made potions that cure the sick, but now the townspeople say she is a witch. One cloudless night, Art's mother is accused of Witchcraft, arrested, and taken from Scotland to England. Art mounts her horse, taking a sword, a tightrope, and a herbal recipe book, and begins a journey through wild forests to find her mother before summer solstice, using nature's signs and symbols to guide her. On her journey, Art will discover what sacrifices she will need to make to be reunited with her mother - and to alter the fate of women everywhere. But will she reach her, before it's too late?   ...Show more
Oddity
by Eli Brown
$18.99
AUD
Category: Middle Grade
The daughter of a murdered physician vows to protect the magical Oddity he left behind – if only she knew what it was – in an alternate nineteenth century in which the United States is at war with Napoleon's France. When her physician father is murdered, thirteen-year-old Clover Elkin embarks on a peri lous mission through warring frontier territories to protect the one secret Oddity he left behind. And as she uncovers the truth about her parents and her past, Clover herself emerges as a powerful agent of history. A rich, startling, funny fantasy adventure, powered by an irresistible force-of-nature heroine; Clover Elkin is a born fighter – a heroine to rival Lyra Belacqua or True Grit's Mattie Ross.   ...Show more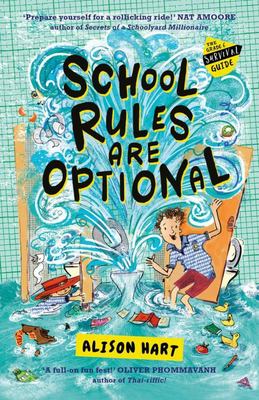 $14.99
AUD
Category: Middle Grade | Series: The Grade Six Survival Guide
Jesse is in his final year of primary school and should be living it up as one of the 'Kings', but he can't even get his Prep buddy to follow school rules. A hilarious story of being undervalued and over everything for fans of Diary of a Wimpy Kid and Secrets of a Schoolyard Millionaire. It's the first day of school and I've already got three problems:1) Mrs Leeman is my classroom teacher. She's so ancient she taught my dad.2) I might have accidentally been voted school captain. I had an unusually popular day when the class voted last year.3) Somehow I've lost my Grade Six jumper between receiving it and Mrs Leeman's lecture about being responsible.That's a lot to go wrong in half an hour. On top of that, it's a million degrees. So that's four problems. It's worse than I thought! At least things can only get better, right?Jesse will have you roaring with laughter as he navigates the rites and rituals of Grade Six including a disrespectful Prep buddy, a plumbing problem the size of Niagara Falls, not to mention the dreaded compulsory school camp.   ...Show more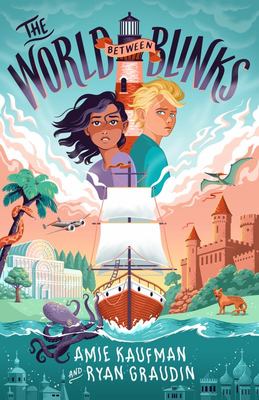 $16.99
AUD
Category: Middle Grade | Series: The\World Between Blinks Ser.
Discover a magical world where lost things are found ... Whenever cousins Jake and Marisol get together, adventure follows. They have their late Nana to thank for that. Her epic trips and treasure hunts were the stuff of family legend. This summer, with the whole family reuniting for one last vacation at Nana's home, the cousins are in for a legendary trip of their own. Following a map Nana left behind, Jake and Marisol sneak out to a nearby lighthouse - then accidentally slip into another world ... The World Between Blinks is a magical place, where all kinds of lost things (and people!) end up. Everywhere they turn, the cousins find real mysteries from history - plus a few they thought were only myths. But the man who holds the key to Jake and Marisol's return journey doesn't want to be found ... and if the cousins don't catch him fast, they could end up lost in this world for good. PRAISE FOR THE WORLD BETWEEN BLINKS:' An inventive, heartwarming first book in a new middle-grade series.'- Kirkus 'A brilliant, heartwarming blend of history, mystery, and adventure. I raced through every page, afraid to blink and miss part of the wonder.'- Shannon Messenger, bestselling author of Keeper of the Lost Cities Series 'A fast-paced fantasy adventure that will appeal to genre fans and reluctant middle grade readers alike.'- School Library Journal, starred review '[an] incredibly inventive story, chock-full of delightful descriptions and fascinating tidbits ... [and] a charming crash course in a host of historical mysteries and figures. Readers will have enormous fun ... all while learning lessons on the power of love, the value of memories, and the wonders that the world holds.' - Booklist, starred review ...Show more
$17.99
AUD
Category: Middle Grade
The first middle-grade novel from award-winning author Nicki Greenberg, this book is a classic whodunnit mystery set aboard a grand ocean liner in the 1920s. For as long as she can remember, Pepper Stark has wanted one thing: to join her father, the Captain, aboard the magnificent RMS Aquitania on a vo yage to New York. She has never been allowed to set foot on her father's ship – until now. From the decadent food to the star-studded passenger list, travelling First Class on Aquitania is every bit as glamorous as Pepper had imagined. And most dazzling of all is American stage sensation Perdita West, wearing the world-famous Saffron Diamond around her neck. When the priceless jewel disappears mid-voyage, Pepper unexpectedly finds herself entangled in the crime. With the Captain's reputation at stake, Pepper and her new friends set out to solve the mystery. But finding a missing diamond isn't so easy on Aquitania, where everyone has something to hide … With first-class glitz and glamour and a deliciously plotted intrigue featuring an uppity stage star, a missing diamond, a leopard and a loveable cast of child sleuths, The Detective's Guide to Ocean Travel is an exciting romp on the high seas, perfect for fans of Murder Most Unladylike and The Good Thieves. ...Show more
$16.99
AUD
Category: Middle Grade | Series: Wednesday Weeks Ser.
In a world of magic, can science save the day? Wednesday Weeks never wanted to be a sorcerer's apprentice. She'd rather study science than magic. But when her cloak-wearing, staff-wielding grandpa is captured by a power-hungry goblin king, Wednesday must find a way to embrace her magical heritage and re scue him from the dreaded Tower of Shadows. Luckily, she's not alone. Her best friend Alfie is a prime-number fan and robotics expert who's all-in on Wednesday's epic plan involving parallel universes, swords of power, and a wise-cracking talking skull. But it's going to take more than science, magic, and the world's cutest robot to take down this bad guy. Because the goblin king is playing for the ultimate prize - and Wednesday and Alfie just walked into his trap...   ...Show more
$12.99
AUD
Category: Middle Grade
Two intrepid girls go from ladies-in-waiting to knights-in-action when they rip up the rule book and go searching for adventure! Wondermere is the luckiest kingdom in the land, all thanks to the dragons that nest on top of the castle. Nobody wants them to fly away, so everyone has to FOLLOW THE RULES a nd make sure everything STAYS THE SAME to keep the dragons HAPPY. P rincess Grace HATES the rules. They stop her doing everything she loves, like PLAYING TROLL-O and WEARING TROUSERS and training to be a BRAVE KNIGHT. Why do boys get all the FUN! Determined to prove that the rules are a LOAD OF OLD SWAMP ROT, Grace and her sister Princess Portia secretly enter the year's BIGGEST TROLL-O TOURNAMENT. A couple of rule-breakers couldn't possibly disturb the dragons could they? Cheeky, charming and laugh-out-loud funny, the debut young fiction series from bestselling picture book author Michelle Robinson is chock-full of chuckles (and grumpy unicorns). Perfect for fans of Cressida Cowell, Pamela Butchart and Emer Stamp. ...Show more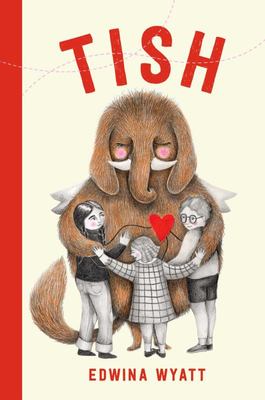 Tish
by EDWINA WYATT
$19.99
AUD
Category: Middle Grade
Tish is the story of a lovable imaginary friend who is looking for his place in the world and finds it through his companionship with three different children who need him. It's a story of friendship, goodbyes and longing, and a tale of having the confidence to believe.