$12.99
AUD
Category: Philosophy | Series: Popular Penguins
As a diplomat in turbulent fifteenth-century Florence, Niccolò Machiavelli (1469-1527) knew how quickly political fortunes could rise and fall. The Princeis his controversial handbook about the dynamics of power, leadership and strategy. Machiavelli's shrewd argument that sometimes it is necessary to ab andon ethics to succeed made his name notorious. Consequently, The Princehas been read by strategists, politicians and business people ever since. ...Show more
$12.99
AUD
Category: Philosophy | Series: Popular Penguins Ser.
Alain de Botton has performed a stunning feat: he has transformed arcane philosophy into something accessible and entertaining, useful and kind. Drawing on the work of six of the world's most brilliant thinkers, de Botton has arranged a panoply of wisdom to guide us through our most common problems. Fro m the frustration of misplacing your keys to the sadness of losing a loved one, the writings of Seneca can offer consolation. For the agony of not having enough money, Epicurus has a solution that everyone can afford. If your life is beset by difficulty after difficulty, wise advice may be found in the words of Nietzsche. The Consolations of Philosophy is smart, lucid, and pleasing, a rare sort of book that wonderfully fulfills the promise of its title. ...Show more
$12.99
AUD
Category: Philosophy | Series: Popular Penguins Ser.
Written in China more than 2,000 years ago, Sun Tzu's classic The Art of War is the first known study of the planning and conduct of military operations. These terse, aphoristic essays are unsurpassed in comprehensiveness and depth of understanding, examining not only battlefield maneuvers, but also rel evant economic, political, and psychological factors. Indeed, the precepts outlined by Sun Tzu can be applied outside the realm of military theory. It is read avidly by Japanese businessmen and in fact was touted in the movie Wall Street as the corporate raider's bible. The Art of War is the definitive study of combat. ...Show more
$29.99
AUD
Category: Philosophy
From Pulitzer Prize-finalist Steven Nadler, an engaging guide to what Spinoza can teach us about life's big questions   In 1656, after being excommunicated from Amsterdam's Portuguese-Jewish community for "abominable heresies" and "monstrous deeds," the young Baruch Spinoza abandoned his family's impo rt business to dedicate his life to philosophy. He quickly became notorious across Europe for his views on God, the Bible, and miracles, as well as for his uncompromising defense of free thought. Yet the radicalism of Spinoza's views has long obscured that his primary reason for turning to philosophy was to answer one of humanity's most urgent questions: How can we lead a good life and enjoy happiness in a world without a providential God? In Think Least of Death, Pulitzer Prize-finalist Steven Nadler connects Spinoza's ideas with his life and times to offer a compelling account of how the philosopher can provide a guide to living one's best life.   In the Ethics, Spinoza presents his vision of the ideal human being, the "free person" who, motivated by reason, lives a life of joy devoted to what is most important--improving oneself and others. Untroubled by passions such as hate, greed, and envy, free people treat others with benevolence, justice, and charity. Focusing on the rewards of goodness, they enjoy the pleasures of this world, but in moderation. "The free person thinks least of all of death," Spinoza writes, "and his wisdom is a meditation not on death but on life.   An unmatched introduction to Spinoza's moral philosophy, Think Least of Death shows how his ideas still provide valuable insights about how to live today. ...Show more
$24.99
AUD
Category: Philosophy
Julian Baggini's How the World Thinks is there to fill the Sapiens-size hole in your life' Observer's guide to Autumn in culture In this groundbreaking global overview of philosophy, Julian Baggini travels the world to provide a wide-ranging map of human thought. One of the great unexplained wonders of human history is that written philosophy flowered entirely separately in China, India and Ancient Greece at more or less the same time. These early philosophies have had a profound impact on the development of distinctive cultures in different parts of the world. What we call 'philosophy' in the West is not even half the story. Julian Baggini sets out to expand our horizons in How the World Thinks, exploring the philosophies of Japan, India, China and the Muslim world, as well as the lesser-known oral traditions of Africa and Australia's first peoples. Interviewing thinkers from around the globe, Baggini asks questions such as: why is the West is more individualistic than the East? What makes secularism a less powerful force in the Islamic world than in Europe? And how has China resisted pressures for greater political freedom? Offering deep insights into how different regions operate, and paying as much attention to commonalities as to differences, Baggini shows that by gaining greater knowledge of how others think we take the first step to a greater understanding of ourselves. ...Show more
$24.99
AUD
Category: Philosophy | Series: Penguin Pocket Hardbacks Ser.
Written during a time of great political turmoil, social anxiety, and against the backdrop of the French Revolution, Wollstonecraft's argument continues to challenge and inspire. This revised and expanded Third Edition is again based on the 1792 second-edition text and is accompanied by revised and expa nded explanatory annotations. "Backgrounds and Contexts" is also significantly expanded and contains twenty-four works organized thematically into these groupings: "Legacies of English Radicalism," "Education," "Wollstonecraft's Revolutionary Moment," and "The Wollstonecraft Debate." Opinions on a variety of reforms that may be compared and contrasted with Wollstonecraft's include those by John Milton, John Locke, Mary Astell, Jean-Jacques Rousseau, Hannah More, Richard Price, Edmund Burke, Maria Edgeworth, and William Godwin, among others. "Criticism" includes six seminal essays on A Vindication of the Rights of Woman by Elissa S. Guralnick, Mitzi Myers, Cora Kaplan, Mary Poovey, Claudia L. Johnson, and Barbara Taylor. A Chronology of Wollstonecraft's life and work and a Selected Bibliography are also included. ...Show more
$14.99
AUD
Category: Philosophy | Series: Penguin Classics Ser.
Beyond Good and Evil (German: Jenseits von Gut und Böse; subtitled "Prelude to a Philosophy of the Future" (German: Vorspiel einer Philosophie der Zukunft)) is a book by the philosopher Friedrich Nietzsche, first published in 1886. It takes up and expands on the ideas of his previous work, Thus Spoke Za rathustra, but approached from a more critical, polemical direction. In Beyond Good and Evil, Nietzsche accuses past philosophers of lacking critical sense and blindly accepting Judeo-Christian premises in their consideration of morality. The work moves into the realm "beyond good and evil" in the sense of leaving behind the traditional morality which Nietzsche subjects to a destructive critique in favour of what he regards as an affirmative approach that fearlessly confronts the perspectival nature of knowledge and the perilous condition of the modern individual. ...Show more
$22.99
AUD
Category: Philosophy | Series: Penguin Modern Classics Ser.
The noted critic and a Palestinian now teaching at Columbia University,examines the way in which the West observes the Arabs.
$27.99
AUD
Category: Philosophy
One of the great, but often unmentioned, causes of both happiness and misery is the quality of our environment: the kind of walls, chairs, buildings and streets we're surrounded by. And yet a concern for architecture and design is too often described as frivolous, even self-indulgent. The Architecture o f Happiness starts from the idea that where we are heavily influences who we can be - and argues that it is architecture's task to stand as an eloquent reminder of our full potential.Whereas many architects are wary of openly discussing the word beauty, this audiobook has at its centre the large and naïve question: 'What is a beautiful building?' It amounts to a tour through the philosophy and psychology of architecture, which aims to change the way we think about our homes, streets and ourselves. ...Show more
$12.99
AUD
Category: Philosophy | Series: Popular Penguins Ser.
Originally written only for his personal consumption, Marcus Aurelius's Meditations has become a key text in the understanding of Roman Stoic philosophy. This Penguin Classics edition is translated with notes by Martin Hammond and an introduction by Diskin Clay.Written in Greek by an intellectual Roman emperor without any intention of publication, the Meditationsof Marcus Aurelius offer a wide range of fascinating spiritual reflections and exercises developed as the leader struggled to understand himself and make sense of the universe. Spanning from doubt and despair to conviction and exaltation, they cover such diverse topics as the question of virtue, human rationality, the nature of the gods and Aurelius's own emotions. But while the Meditations were composed to provide personal consolation, in developing his beliefs Marcus also created one of the greatest of all works of philosophy- a series of wise and practical aphorisms that have been consulted and admired by statesmen, thinkers and ordinary readers for almost two thousand years.Martin Hammond's new translation fully expresses the intimacy and eloquence of the original work, with detailed notes elucidating the text. This edition also includes an introduction by Diskin Clay, exploring the nature and development of the Meditations, a chronology, further reading and full indexes.Marcus Aelius Aurelius Antoninus (121-80) was adopted by the emperor Antoninus Pius and succeeded him in 161, (as joint emperor with adoptive brother Lucius Verus). He ruled alone from 169, and spent much of his reign in putting down various rebellions, and was a persecutor of Christians. His fame rest, above all, on his Meditations, a series of reflections, strongly influenced by Epictetus, which represent a Stoic outlook on life. He was succeeded by his natural son, thus ending the period of the adoptive emperors.If you enjoyed Meditations, you might like Seneca's Letters from a Stoic, also available in Penguin Classics. ...Show more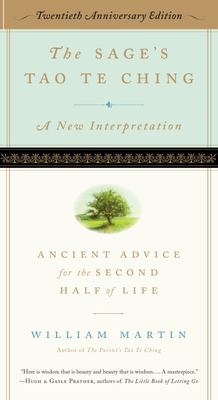 $24.99
AUD
Category: Philosophy
The twentieth anniversary edition of William Martin's free-verse interpretation of the Tao Te Ching, written expressly for those coming into the fullness of their wisdom Lao Tzu's Tao Te Ching reminds its readers that the sage has been venerated in China for thousands of years. Twenty years ago, Willi am Martin subtly and powerfully captured the complex emotions connected with growing older in this free-verse interpretation of the Tao. His words resonate just as much now, encouraging today's sages to recognize their inestimable worth in a youth-centric world that often goes astray: "If there is to be a transformation, it will be the sages among us who will show the way. The elders, the wisewomen, the shamans, the grandmothers, and the grandfathers will provide the guidance, for they have undergone the necessary initiations . . . and emerged into the spaciousness of simplicity, freedom, and joy." ...Show more
$22.99
AUD
Category: Philosophy
What do we really need in order to live a happy life? Over two thousand years ago the Greek philosopher Epicurus offered a seemingly simple answer: pleasure. All we really want is pleasure. Today we tend to associate the word 'Epicurean' with the enjoyment of fine food and wine and decadent self-indul gence. But, as philosopher John Sellars shows, these things are a world away from the vision of a pleasant life developed by Epicurus and his followers who were more concerned with mental pleasures and avoiding pain. Their goal, in short, was a life of tranquillity. In this uplifting and elegant book, Sellars walks us through the history of Epicureanism from a private garden on the edge of ancient Athens to the streets of Rome, showing us how it can help us think anew about joy, friendship, nature and being alive in the world. ...Show more