$17.99
AUD
Category: Teenage | Series: Supernatural Investigations
Amari Peters has never stopped believing her missing older brother, Quinton, is alive. Not even when the police told her otherwise, or when she got in trouble for standing up to bullies who said he was gone for good. So when she discovers a ticking briefcase in his closet containing a nomination for a summer tryout at the Bureau of Supernatural Affairs, she's certain the secretive organisation holds the key to locating Quinton – if only she can wrap her head around the idea of magicians, fairies, aliens, and other supernatural creatures all being real. Now she must compete for a spot against kids who've known about magic their whole lives. No matter how hard she tries, Amari can't seem to escape their intense scrutiny and doubt – especially once her own supernaturally enhanced talent is deemed 'illegal'. With an evil magician threatening the supernatural world, and her own classmates thinking she's an enemy, Amari has never felt more alone. But if she doesn't stick it out and pass the tryouts, she may never find out what happened to Quinton ... ...Show more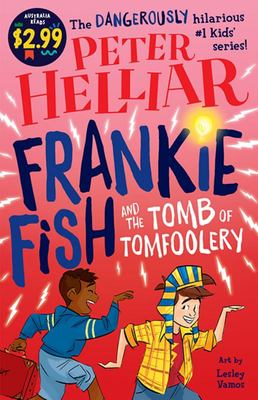 $2.99
AUD
Category: Teenage | Series: Frankie Fish Ser.
Frankie Fish is back in a very special mini adventure for Australia Reads! When Frankie and Drew get in an argument about how ancient Egyptians really walked, there's only one way to set the record straight: a quick time-travel adventure! But what happens when Frankie and Drew's precious Sonic Suitcase ends up buried inside a booby-trap-ridden pyramid? There's only one way to get it back - by going inside and hoping they can make it out again ... It's a DANGEROUSLY EXCITING special adventure to celebrate Australia Reads, from favourite comedian and beloved children's author Peter Helliar!   ...Show more
$19.99
AUD
Category: Teenage | Series: The Jane Doe Chronicles
Strap in. Hold on tight. The follow-up to the award-winning Jane Doe and the Cradle of All Worlds is here! Jane Doe is in more danger than ever before. Her father is still imprisoned. The Manor - the hallowed world between worlds - is still dying. The villainous Roth is still searching for the mythical, all-powerful Cradle Sea. Worst of all, Jane has learned that she is the key to stopping him and saving the Otherworlds. Problem is, she's stranded in the dying land of Arakaan - Roth's home - and its people have some surprising secrets of their own. With a little help from her pyromaniac pal, Violet, and her doubtful ally, Hickory, Jane must find the courage to accept her destiny and face her darkest fears, even if it means losing everything she holds dear. From the desolate plains of Arakaan to the shifting halls and devious booby traps of the Manor, Jane's Cradle quest is about to explode. There are sandstorms. There are scorpions. There are new friends and foes. And every soul in every world hangs in the balance.   ...Show more
$40.00
AUD
$45.00
(11% off)
Category: Teenage
A mythical monster, a kingdom in peril, an adventure that will test two children's bravery to the limit. Discover a brilliantly original fairy tale about the power of hope and friendship to triumph against all odds, from one of the world's best storytellers. The kingdom of Cornucopia was once the happie st in the world. It had plenty of gold, a king with the finest moustaches you could possibly imagine, and butchers, bakers and cheesemongers whose exquisite foods made a person dance with delight when they ate them. Everything was perfect – except for the misty Marshlands to the north which, according to legend, were home to the monstrous Ickabog. Anyone sensible knew that the Ickabog was just a myth, to scare children into behaving. But the funny thing about myths is that sometimes they take on a life of their own. Could a myth unseat a beloved king? Could a myth bring a once happy country to its knees? Could a myth thrust two children into an adventure they didn't ask for and never expected? If you're feeling brave, step into the pages of this book to find out… A beautiful hardback edition, perfect for sharing and gift-giving. Brought to life with full-colour illustrations by the young winners of The Ickabog competition.   ...Show more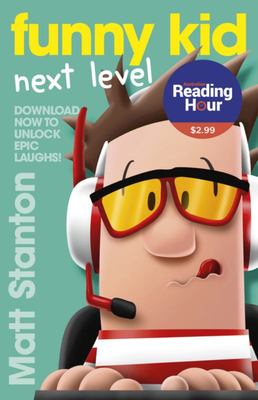 $2.99
AUD
Category: Teenage | Series: Funny Kid Ser.
A brand-new FUNNY KID for 2019 Australian Reading Hour Every kid wants to laugh, but Max is the boy who can make it happen. A new video game has thrown Redhill Middle School into chaos. Will Max get the screen time he needs to dominate? Max is the funny kid and he's trying to beat Redhill's mystery p ro gamer! Toilet snoozes, student protests, parent-teacher nights gone horribly wrong and an epic courtroom battle against Max's baby sister are just some of the things in store for Max and his friends in this brand-new Funny Kid adventure. FUNNY KID is the mega-bestselling series from author-illustrator Matt Stanton that's got everyone laughing! PRAISE FOR FUNNY KID 'my new ultimate favourite book' - Lachie 'my favourite thing in the book was everything' - Elliott 'better than Wimpy Kid, Big Nate and Tom Gates combined' - Ally 'humour is injected into every page' - Children's Book Council of Australia's Reading Time 'absolutely hilarious' - Tim Harris, author of the Exploding Endings series ...Show more
$19.99
AUD
Category: Teenage
Pearl and Vally Cole live in a bookshop. And not just any bookshop. In 1893, Cole's Book Arcade in Melbourne is the grandest bookshop in the world, brimming with every curiosity imaginable. Each day brings fresh delights for the siblings: voice-changing sweets, talking parrots, a new story written just for them by their eccentric father. When Pearl and Vally learn that Pa has risked the Arcade – and himself – in a shocking deal with the mysterious Obscurosmith, the siblings hatch a plan. Soon they are swept into a dangerous game with impossibly high stakes: defeat seven challenges by the stroke of midnight and both the Arcade and their father will be restored. But if they fail, Pearl and Vally won't just lose Pa – they'll forget that he and the Arcade ever existed. ...Show more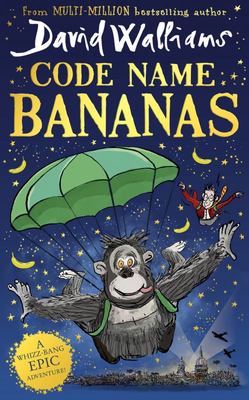 $22.99
AUD
Category: Teenage
1940. Britain is at war with Nazi Germany. Eleven-year-old Eric spends his days at the place that makes him most happy: London Zoo. And there's one animal in particular he loves: Gertrude the gorilla. With bombs falling all over London, Eric must rescue Gertrude. Together with his Uncle Sid, a keeper at the zoo, the three go on the run. But while hiding out at the seaside they uncover a top-secret Nazi plot… Join David Walliams on this action-packed, laugh-out-loud adventure for all the family! ...Show more
$15.99
AUD
Category: Teenage | Series: Skydragon
May 2021 Release  Amber is back! The second book in the high-flying adventure series from Anh Do.   Amber held her arms out. Surround me. Locusts, beetles, bees and all manner of flying insects nestled together tightly. Shapes formed. Horns on her head, claws on her hands and feet. A thick, long tail. She was a dragon! Amber is on the run. What will happen when she and the Firefighter finally come face to face?   ...Show more
$16.99
AUD
Category: Teenage
Pearl and Vally Cole live in a bookshop. And not just any bookshop. In 1893, Cole's Book Arcade in Melbourne is the grandest bookshop in the world, brimming with every curiosity imaginable. Each day brings fresh delights for the siblings: voice-changing sweets, talking parrots, a new story written just for them by their eccentric father. When Pearl and Vally learn that Pa has risked the Arcade - and himself - in a shocking deal with the mysterious Obscurosmith, the siblings hatch a plan. Soon they are swept into a dangerous game with impossibly high stakes: defeat seven challenges by the stroke of midnight and both the Arcade and their father will be restored. But if they fail Pearl and Vally won't just lose Pa - they'll forget that he and the Arcade ever existed. ...Show more
$14.99
AUD
Category: Teenage
BEWARE. Real witches dress in ordinary clothes and look like ordinary women. But they are not ordinary. They are always plotting and scheming with murderous, bloodthirsty thoughts - and they hate children. The Grand High Witch hates children most of all and plans to make every single one of YOU disappea r. Only one boy and his grandmother can stop her, but if their plan fails the Grand High Witch will frizzle them like fritters, and then what . . . ? ...Show more
$2.99
AUD
Category: Teenage
The annual Pharos Trainee Spy Games competition is being held at Alexandria and Kensy and Max can't wait to participate - and win! The challenges include an obstacle course, driving races, extreme parkour, coding and the big one - a treasure hunt, full of danger and intrigue. The prizes for the games ar e legendary, and with only one champion, the twins are forced to go head to head. When the stakes are raised with news of a saboteur in their midst, Kensy and Max must put all their spy skills to the test. Who is the double agent? And which of the trainee spies has what it takes to emerge victorious? A special Kensy and Max story for Australia Reads. ...Show more
$27.99
AUD
Category: Teenage | Series: The Last Hours
The Shadowhunters must catch a killer in Edwardian London in this dangerous and romantic sequel to the #1 New York Times bestselling novel Chain of Gold, from New York Times and USA TODAY bestselling author Cassandra Clare. Chain of Iron is a Shadowhunters novel. Cordelia Carstairs seems to have everyth ing she ever wanted. She's engaged to marry James Herondale, the boy she has loved since childhood. She has a new life in London with her best friend Lucie Herondale and James's charming companions, the Merry Thieves. She is about to be reunited with her beloved father. And she bears the sword Cortana, a legendary hero's blade.But the truth is far grimmer. James and Cordelia's marriage is a lie, arranged to save Cordelia's reputation. James is in love with the mysterious Grace Blackthorn whose brother, Jesse, died years ago in a terrible accident. Cortana burns Cordelia's hand when she touches it, while her father has grown bitter and angry. And a serial murderer is targeting the Shadowhunters of London, killing under cover of darkness, then vanishing without a trace.Together with the Merry Thieves, Cordelia, James and Lucie must follow the trail of the knife-wielding killer through the city's most dangerous streets. All the while, each is keeping a shocking secret: Lucie, that she plans to raise Jesse from the dead; Cordelia, that she has sworn a dangerous oath of loyalty to a mysterious power; and James, that he is being drawn further each night into the dark web of his grandfather, the arch-demon Belial. And that he himself may be the killer they seek.   ...Show more