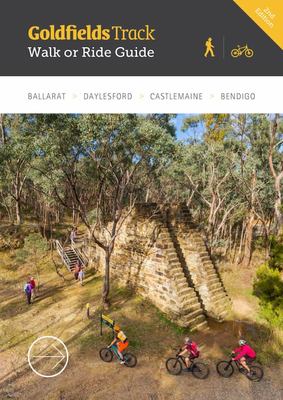 $29.99
AUD
Category: Travel
2nd edition of the Goldfields Track guidebook, authorised version. Includes updated maps, new circuit walks & rides, revised cultural heritage essays.
$34.99
AUD
Category: Travel | Series: Travel Guide Ser.
Lonely Planet Best Day Walks Australia is your passport to 60 escapes into nature. Stretch your legs away from the city by picking a walk that works for you, from just a couple of hours to a full day, from easy to hard. Stroll vine-striped hillsides, discover hidden coastlines, or explore the Outback. G et to the heart of Australia and begin your journey now!   Inside Lonely Planet Best Day Walks Australia Travel Guide:  Colour maps and images throughout Special features - on Australia's highlights for walkers, kid-friendly walks, accessible trails and what to take Best for... section helps you plan your trip and select walks that appeal to your interests Region profiles cover when to go, where to stay, what's on, cultural insights, and local food and drink recommendations to refuel and refresh. Featured regions include: Sydney & Around, Byron Bay to the Sunshine Coast, The Daintree & the Far North, the Outback, The Kimberley & Pilbara, Southwest Forests to the Sea, Flinders to Fleurieu, Grampians to the High Country, the Prom to the Great Ocean Road, and Tasmania Essential info at your fingertips - walk itineraries accompanied by illustrative maps are combined with details about walk duration, distance, terrain, start/end locations and difficulty (classified as easy, easy-moderate, moderate, moderate-hard, or hard) Over 70 maps   The Perfect Choice: Lonely Planet Best Day Walks Australia, our most comprehensive guide to walking in Australia, is perfect for those planning to explore Australia on foot. Looking for more information on Australia? Check out Lonely Planet Australia guide for a comprehensive look at what the country has to offer.    ...Show more
$22.99
AUD
Category: Travel
Just days after Raynor learns that Moth, her husband of 32 years is terminally ill, their home is taken away and they lose their livelihood. With nothing left and little time, they make the brave and impulsive decision to walk the 630 miles of the sea-swept South West Coast Path, from Somerset to Dorset via Devon and Cornwall. Carrying only the essentials for survival on their backs, together they live wild in the ancient, weathered landscape of cliffs, sea and sky. Yet through every step, every encounter, and every test along the way, their walk becomes a remarkable journey. The Salt Pathis an honest and inspiring true story of coming to terms with grief and the healing power of the natural world. Ultimately, it is a portrayal of home, and how it can be lost, rebuilt, and rediscovered in the most unexpected ways. ...Show more
$39.99
AUD
Category: Travel | Series: Trails Ser.
Get a taste of Australia and New Zealand with these 40 gourmet weekends. Each trail features a blend of food producers, farmers markets, restaurants and cafes, wineries and breweries, all combining to create a weekend-long itinerary that is not only a delicious taste experience but also shines a light o n local food culture, specialties and traditions.Gourmet Trails - Australia & New Zealand is perfect for travel enthusiasts and foodies. It includes detailed itineraries recommending the most interesting stops, the best places to stay and, of course, where to eat along 40 weekend-long trails.Food writers offer personal recommendations for the best farmers markets, restaurants, and food producers. We'll help you understand a place, its people and their traditions through the food that's made there.For foodies looking for inspiration for their next weekend away and ideas for new cuisines to taste and share, Gourmet Trails - Australia and New Zealand will be the source of many happy faces and full stomachs!     ...Show more
$29.99
AUD
Category: Travel
Anthony Bourdain saw more of the world than nearly anyone. His travels took him from the hidden pockets of his hometown of New York to a tribal longhouse in Borneo, from cosmopolitan Buenos Aires, Paris, and Shanghai to Tanzania's utter beauty and the stunning desert solitude of Oman's Empty Quarter - a nd many places beyond. In World Travel, a life of experience is collected into an entertaining, practical, fun and frank travel guide that gives readers an introduction to some of his favorite places - in his own words. Featuring essential advice on how to get there, what to eat, where to stay and, in some cases, what to avoid, World Travel provides essential context that will help readers further appreciate the reasons why Bourdain found a place enchanting and memorable. Supplementing Bourdain's words are a handful of essays by friends, colleagues, and family that tell even deeper stories about a place, including sardonic accounts of traveling with Bourdain by his brother, Chris; a guide to Chicago's best cheap eats by legendary music producer Steve Albini, and more. Additionally, each chapter includes sly, witty illustrations by cartoonist Tony Millionaire. For veteran travelers, armchair enthusiasts, and those in between, World Travel offers a chance to experience the world like Anthony Bourdain.   ...Show more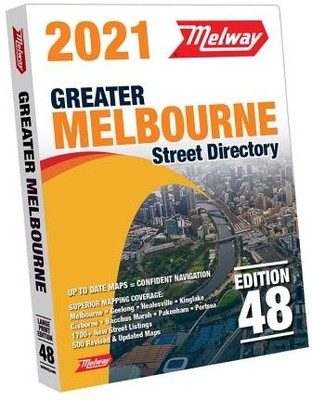 $63.99
AUD
Category: Travel
In keeping with Melway's policy of continuous improvement through high standards of detailed mapping, all maps have been thoroughly researched and updated for this 48th edition.   Melway, the most comprehensive street directory available for the Greater Melbourne area, has coverage extending from Wal lan, Whittlesea and Kinglake in the north to the Mornington Peninsula in the south, Warburton and Tynong in the east to Bacchus Marsh and Geelong in the West. Regional areas of Kilmore, Macedon, Gisborne, Riddells Creek, Bannockburn, Torquay, Anglesea, Lorne, Phillip Island and Koo Wee Rup are also included.   What's Included • Construction has commenced on the new West Gate Tunnel - At over 4 kms long, the new tunnel will provide a viable alternative to the West Gate Bridge. • Construction continues on the Melbourne Metro Rail Tunnel - this will add five new stations from South Kensington railway station to South Yarra railway station. Station names are North Melbourne, Parkville, State Library, Town Hall and Domain. • Over 1700 new street listings • Over 500 revised and updated Street Listings • Cross referenced street listings - The Melway street index features alternative (sounds like) spellings and cross referencing of multi-part street names. Now you can find your way even when you only have part of the name or an incorrectly-spelled name. ...Show more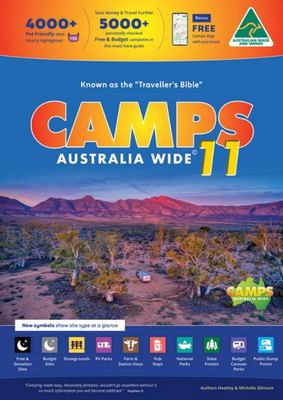 $69.95
AUD
Category: Travel
Explore hidden gems in every corner of Australia with Camps 11 (2021)- Australia's most trusted resource for the RV traveller! Now with over 5000 verified sites! Backed by over 25 years of updates, this is the most comprehensive and authenticated guide to Free and Low cost camping. Includes unique outba ck and remote camping sites throughout Australia. Spiral bound for lie-flat reading on the road.   ...Show more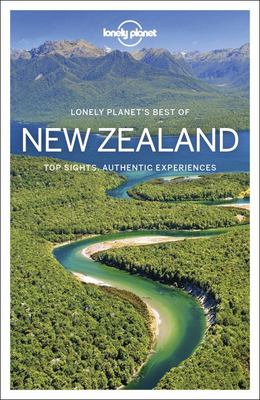 $34.99
AUD
Category: Travel | Series: Travel Guide
Lonely Planet's Best of New Zealandis your passport to the most relevant, up-to-date advice on what to see and skip, and what hidden discoveries await you. Explore Auckland's dining and music scene, sample Wellington's craft beer, and binge on adrenaline in Queenstown; all with your trusted travel compa nion. Get to the heart of New Zealand and begin your journey now! Inside Lonely Planet's Best of New Zealand: Up-to-date information - all businesses were rechecked before publication to ensure they are still open after 2020's COVID-19 outbreak Colour maps and images throughout Highlightsand itinerarieshelp you tailor your trip to your personal needs and interests Insider tipsto save time and money and get around like a local, avoiding crowds and trouble spots Essential infoat your fingertips- hours of operation, phone numbers, websites, transit tips, prices Honest reviews for all budgets- eating, sleeping, sightseeing, going out, shopping, hidden gems that most guidebooks miss Cultural insightsgive you a richer, more rewarding travel experience - history, people, music, la(more...) ...Show more
$26.99
AUD
Category: Travel
In The Art of Being a Tourist at Home, Jenny Herbert takes us on a journey through our neighbourhood streets and our local parks, through museums and libraries, art galleries and bookshops. There's wonder to be found in the theatre and music-making all around us, vibrancy in fresh-food markets, new frie nds to meet through hobbies and clubs, and so many lifetime learning opportunities to be had – all without the stress involved in planning a holiday.  After all, why do we travel in the first place? It's an urgent question in these days of climate crisis and global instability. Staying closer to home makes good sense: it's cheaper, easier, less stressful and better for our health as well as the health of the planet. But Jenny doesn't suggest that we should abandon all future travel plans. Instead, she shows travellers of all kinds how we can still harness the spirit of travel through the art of the 'staycation'. With beautiful illustrations throughout, The Art of Being a Tourist demonstrates that travelling at home offers the greatest potential for us to discover what contributes to our wellbeing and our happiness. A thoughtful book that celebrates 'staycations' at a time when the world is grappling with the future of travel.   ...Show more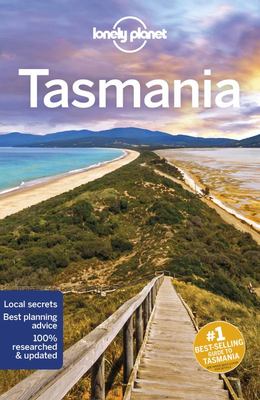 $29.99
AUD
Category: Travel | Series: Lonely Planet Travel Guides
#1 best-selling guide to Tasmania* Lonely Planet Tasmaniais your passport to the most relevant, up-to-date advice on what to see and skip, and what hidden discoveries await you. Explore the darkened underground galleries at MONA, learn about convict history at Port Arthur Historic Site, or hike spectac ular Cradle Mountain; all with your trusted travel companion. Get to the heart of Tasmania and begin your journey now! Inside Lonely Planet Tasmania: Colour maps and images throughout Highlightsand itinerarieshelp you tailor your trip to your personal needs and interests Insider tipsto save time and money and get around like a local, avoiding crowds and trouble spots Essential infoat your fingertips- hours of operation, phone numbers, websites, transit tips, prices Honest reviews for all budgets- eating, sleeping, sight-seeing, going out, shopping, hidden gems that most guidebooks miss Cultural insightsgive you a richer, more rewarding travel experience - history, food, wine, wildlife, environment, politics. Free, convenient pull-outHobartmap(included in print version), plus over 44 maps Covers Hobart, Port Arthur, Bruny Island, Huonville, Derwent Valley, Maria Island, Freycinet National Park, Bay of Fires, Flinders Island, Launceston, Tamar Valley, Devonport, Strahan, Cradle Mountain and more The Perfect Choice: Lonely PlanetTasmania,our most comprehensive guide to Tasmania, is perfect for both exploring top sights and taking roads less travelled. Looking for more extensive coverage? Check out Lonely Planet'sAustraliafor a comprehensive look at all the country has to offer. Authors:Written and researched by Lonely Planet, Anthony Ham, Charles Rawlings-Way and Meg Worby. About Lonely Planet: Since 1973, Lonely Planet has become the world's leading travel media company with guidebooks to every destination, an award-winning website, mobile and digital travel products, and a dedicated traveller community. Lonely Planet covers must-see spots but also enables curious travellers to get off beaten paths to understand more of the culture of the places in which they find themselves. Lonely Planet guides have won the TripAdvisor Travelers' Choice Awards in 2012, 2013, 2014 and 2015 in the Favorite Travel Guide category. *Best-selling guide to Tasmania. Source: Nielsen BookScan. Australia, UK and USA ...Show more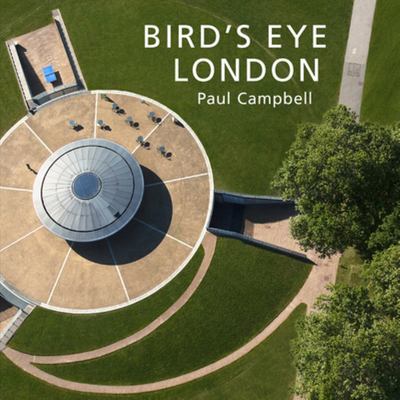 $79.99
AUD
Category: Travel
A showcase of stunning aerial photography by Paul Campbell, revealing new perspectives of London and its numerous famous landmarks. Over 150 single and double-page images of the city are published here for the first time, each revealing the full extent of the ever-changing capital and what it has to exp lore. A wonderful reference book for professionals and residents and a very memorable gift for visitors.Informatively captioned throughout, the magnificent range of historical figures, architects and designers who have contributed to London's landscape and had such influence on its culture are discussed alongside the spectacular images. Chapters cover each of the city's iconic locations and attractions, from the luxurious green expanses of the Royal Parks to the towering new skyscrapers of Canary Wharf and from innovative rooftop spaces to the bridges which span the bustling River Thames, withBird's Eye London offering a rarely experienced insight into this global city. ...Show more